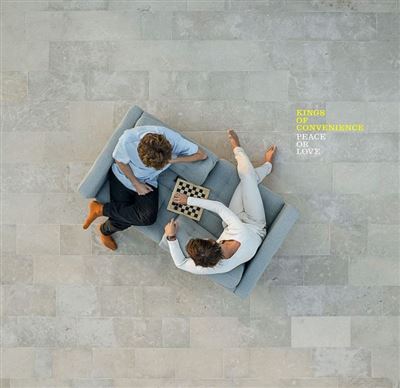 Doce años llevábamos sin tener noticias de este dúo noruego que tan fácil nos lo ponen para traducir con ternura la delicadeza y las palabras sin artificio. "Peace or love" es un gustazo para el espíritu, esa tranquilidad que nos da canciones como "Rumours".
Aquí todo es para ir despacio en la vida. El ritmo sosegado de "Rocky trail", ese himno a la tristeza que te deja rendido llamado "Comb my hair", o ese tumulto de silencio en plan bossa llamado "Angel" y que descoloca al más pintado.
Como "Fever" y ese punto vacilón que se incrusta en el lugar de tu cerebro que produce los tarareos. Que buenos que son Kings of Convenience con su pop folk de caramelo, chapado a la antigua, repleto de melancolía a de ratos de ternura al vacío ("Killers").
"Ask for help" es para merendar en playas repletas de susurros y "Catholic country", te llena de expresiones de alegría con su ritmo suave, con su cadencia colosal. "Song about it" rezuma plastelina sentimental y "Washing machine" toca a epílogo en un viaje repleto de buen rollo y de satisfacción. Música para el fin del verano, para tomarse un vermut mientras una ballena se come un barco o ves a una gaviota tirarle los tejos a una perdida tórtola. Vaya puntazo estos Kings of Convenience.